Flooding Due To Failed Plumbing in California
Protect yourself against common causes of plumbing failure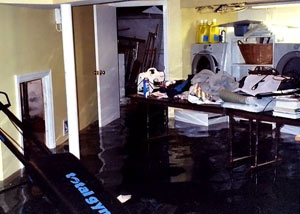 A home that experiences a plumbing failure will have damaged carpeting, drywall, appliances, furniture, stored personal items, and more.
Fortunately, plumbing failures are more likely to be covered by insurance companies than groundwater flooding.
The most common type of claim that insurance companies pay out are related to water damage in the building. While groundwater flooding is a big part of this, water damage from plumbing failure factors in as well.
Water damage can ruin walls, floors, and everything kept within the flooded area. The mold that follows a flood will multiply the damage, and can create allergens within the space that can have serious long-term respiratory effects.
Preventing Plumbing Failures
Unfortunately, it's not possible to prevent all plumbing leaks in your home. There's just too many pipes, toilets, sinks, tubs, faucets, and other types of plumbing installed.
However, by following a few simple steps, you can take some precautions against the most common plumbing failures that occur.
At Pro Restoration, Inc., we recommend three common-sense solutions for avoiding the most common causes of basement flooding in a home. These are simple additions that can easily and effectively ensure that you have the best protection.
Flooded home?
Get a FREE Quote!
If your home is flooding due to a plumbing failure, groundwater intrusion, or any other cause, our experts are standing by to help you! Contact us by phone or e-mail today to schedule a disaster restoration quote! Our California service area includes Westlake Village, Woodland Hills, Van Nuys, the surrounding areas of Encino, Canoga Park, Sherman Oaks, Newbury Park, Pacoima, Granada Hills, Calabasas and nearby.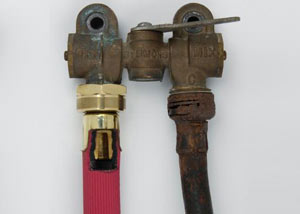 Those black, rubber washer hoses (right) are designed for short-term pressure -- particularly as they break down over time. Turn off the water when your washer is not in use.
When Washer Hoses Fail....
Washer hoses experience enormous pressure whenever the water is on: about 50psi of pressure. Standard washer hoses (designed with black rubber) are not meant to handle this kind of pressure for long.
This means that if you don't turn your water on and off each time you do the laundry, these hoses are a major problem just waiting to happen!
When washer hoses burst open, you can expect about 500 gallons of water to gush out each hour. In some extreme cases, the water can literally fill a basement (where the water ends up as it flows downhill), and begin to pour out of the basement windows.
Fortunately, heavy-duty washing machine hoses can be easily obtained and installed in your home. The best ones include a full warranty, and are color coded for the two washer hose locations (red for hot water, blue for cold).
Sump Pump Flood Alarms
A sump pump system is a great way to keep a basement or crawl space dry. However, they are vulnerable to multiple types of failure -- including clogged drains, frozen discharge lines, pump burnout, and power outages. Whether your home floods from a plumbing failure or because of a failed sump pump, you'll want to be alerted right away.
To help you with this, many professional waterproofers now offer "flood alarms" as part of their waterproofing system. These alarms sound off when they detect flooding water. Newer systems can even be integrated with many types of home alarm system -- enabling you to be notified by phone when the flooding occurs.
Flooding From Water Heaters
A home will typically outlive several generations of water heaters -- a tank-type water heater typically lasts for approximately seven years.
Because tank-type water heaters refill themselves automatically, a system that leaks will continue to do so indefinitely. In extreme cases, we've seen several feet of flooding from a failed system!
If you have a tank-type water heater, be sure to service it regularly. If you're looking to replace your water heater, we suggest that you look into a more energy-efficient (and enjoyable) on-demand water heater.
We Restore Flood-Damaged Homes!
Whether your home is flooding from a plumbing failure, from groundwater, or is simply moldy and humid, our experts have the skills, training, and professional experience you need.
A home damaged by water or flooding should be repaired right away to prevent further damage from mold and rot. To schedule a disaster restoration quote with us, contact us by phone or e-mail today!
Pro Restoration, Inc. proudly serves Westlake Village, Woodland Hills, Van Nuys, surrounding localities such as Encino, Canoga Park, Sherman Oaks, Newbury Park, Pacoima, Granada Hills, Calabasas, and many residential and commercial areas located nearby.
Looking for a price? Get a no cost, no obligation free estimate.