Wind Damage Repairs in Woodland Hills, Van Nuys, Westlake Village, & Nearby CA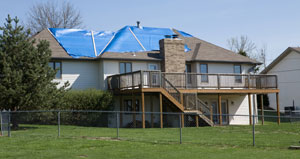 Wind damage repair services
Removal of fallen trees & branches from buildings.
Removal of fallen trees & branches to restore safe access to home.
Cleanup of broken glass & damaged building materials.
Emergency tarp installation to minimize water intrusion.
Spot repairs to damaged roof shingles.
Temporary board-up repairs.
Permanent structural repairs.
Permanent roofing and siding repairs.
When high winds cause building damage, you can count on us for both emergency and permanent repairs
Hurricanes, tornadoes, gale-force winds, and pelting rainstorms – these extreme weather events are becoming more common in many parts of the country.
Sometimes it's possible to prepare for storm damage – by investing in a generator that can supply backup power, for example. But wind damage that occurs during a hurricane, tornado or severe storm is not something you can prepare for. Damage from high winds can cause a number of problems for your home and yard in Woodland Hills, Van Nuys, Westlake Village, and nearby California.
Quick Action is Important to Fix Wind Damage
When parts of your house sustain damage caused by high winds, quick action is usually necessary to minimize damage and maintain safety.
Temporary repair work is often required – to remove fallen trees and branches, and to cover holes made by trees or branches with temporary boards and tarps.
Cleanup work can accompany these temporary repairs to clear your home and yard of debris. Restoring safety and security following wind damage will give you breathing room to contact your insurance agent and make plans for permanent repairs.
Schedule a free estimate from your trusted wind damage company!
Pro Restoration, Inc. provides emergency wind damage repair services 24-hours a day, 365 days a year with IIRC-Certified personnel. Our fast response helps you to minimize damage.
We work in Van Nuys, Woodland Hills, Westlake Village, Canoga Park, Sherman Oaks, Calabasas, Encino, Pacoima, Granada Hills, Newbury Park, and nearby in California. Call or contact us today!
Looking for a price? Get a no cost, no obligation free estimate.